The E-Business Report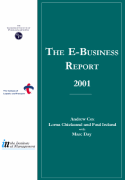 Price: £120.00
Authors: Andrew Cox, Lorna Chicksand & Paul Ireland
Format: Paperback
No. Pages: 354
Published: April 2001
ISBN: 1-873439-07-5
Based on a survey of over a thousand members from the Institute of Management, Institute of Logistics and Transport and the Chartered Institute of Purchasing and Supply, and written by an independent research team based at Birmingham Business School in the UK. The E-Business Report provides an overview of the e-business applications that are currently being used by all types of businesses and public sector organisations. The Report will be of interest to all practitioners in business and the public sector who need to understand better practice in internet-based applications and solutions.
The surveys asked questions of organisations in three broad areas:
The Impact of E-Business on Marketing and Sales Management
The Impact of E-Business on Internal Organisational Management
The Impact of E-Business on Supply Chain Management
Conclusions and Recommendations
The report provides a wide range of conclusions and recommendations. Some of the key recommendations are:
Seek Independent External Advice
The survey demonstrated that there is a high level of reliance by practitioners on external consulting advice and the recommendations of service providers. It is worrying that so few respondents appear to understand the need for truly independent advice based on rigorous analysis of the threats and opportunities of particular solutions and applications.
Adopt a Company-wide E-Business Strategy that Integrates Strategies from all Functions
It is essential that all functions are involved with the decision-making process that leads to the development of e-business strategy within the organisation.
Budget for a Root and Branch Change Management Project
The introduction of web-enabled applications into existing operational practices and legacy IT systems is proving difficult for practitioners and may necessitate a long-term reappraisal of current business processes and systems. This could require significant funding and time to implement.
Think Carefully about the Impact on Buyer and Supplier Relationships
It is essential that organisations think carefully about the applications they implement as many may fundamentally change the current balance of power in business relationships.
Decide Whether the Strategy to be Pursued is Sustainable Competitive Advantage or Operational Efficiency
The survey demonstrates that many of the reported benefits have not as yet materialised for many organisations. The current perceptions of early adopters appear to be that the major benefit of e-business is likely to be an improvement in the operational efficiency of transactional processes. However, practitioners should be aware that the technology used for this is often standardised and can be imitated. As such, this cannot provide the basis for sustainable competitive advantage.
Benchmark Early Adopters to Shorten the Learning Curve, but Avoid Unthinking Copying
If the costs and benefits of these technologies. It is important to recognise that just because larger organisations, or those operating within one particular sector, have achieved major benefits, the same benefits will not necessarily be achieved in other sectors or sizes of organisation.