Public Procurement in the European Community Volume IV: Remedies for Enforcing the Public Procurement Rules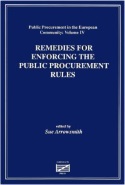 Price: £35.00
Author: Sue Arrowsmith
Format: Paperback
No. Pages: 449
Published: February 1993
ISBN: 1-873439-45-8
This book provides a comprehensive guide to the remedies available across the EC for enforcing the Community rules on public procurement.
An extensive introductory chapter explains the European Community law on this subject, examining the remedies in the European Court of Justice and the Community law rules which govern remedies in the different Member States, including those laid down in the "Compliance" Directive (89/665 EEC). Twelve chapters provide an account of the remedies system in all twelve of the Member States, each being written by a legal expert from the state concerned. Each chapter covers all the major issues relating to remedies - such as forum and procedure, damages, and the availability of interim relief - and explains the steps which have been taken in each state to implement the requirements of the "Compliance" Directive.
Containing invaluable practical information, as well as a wealth of discussion of the more controversial area of this subject, this book is a must for all practitioners and academics interested in the procurement field.