Sourcing Portfolio Analysis: Power Positioning Tools for Category Management & Strategic Sourcing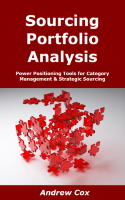 Price: £20.00
Author: Andrew Cox
Format: Paperback
No. Pages: 316
Published: December 2014
ISBN: 978-1-873439-54-8
This volume introduces Souring Portfolio Analysis. This is the one of the key methodological tools used to develop advanced competence in category management and strategic sourcing by the International Institute for Advanced Purchasing & Supply (IIAPS).
In this book current orthodox thinking about how to undertake category management segmentation; and how to develop appropriate sourcing strategies to leverage improved value for money from suppliers and supply chains, is challenged. In particular, the standard, and widely used, analytic and conceptual approaches developed by Kraljic (1983) and Porter (1979), as well as the Purchasing Chessboard (2008), are critically analysed.
Having identified serious gaps in the logical coherence and in the analytical rigour and robustness of these current approaches, the author calls for a 'paradigm shift' in thinking about how to undertake category management and the development of appropriate sourcing strategies. This revolution is predicated on the use of Sourcing Portfolio Analysis as a more effective tool for enabling managers to make choices about the most appropriate sourcing strategies and tactical levers to use when seeking improvements in value for money from suppliers.
This new tool is created by linking criticality analysis and power positioning analysis to create a much more rigorous and robust segmentation of 'categories of supply', rather than 'categories of spend'. Using a 16-Box Matrix, and given a buyer's current power and leverage position, over 32 potential strategic sourcing strategies are identified for static leverage. A further nine potential strategies are also identified that enable buyers to improve their future power and leverage position using dynamic leverage.
A Decision-Tree with decision rules is also provided to enable managers to understand all of the major issues they must address, and the key questions they must answer, if they wish to be fully competent in identifying the most appropriate strategic sourcing options within a world-class category management decision-making process.
Sourcing Portfolio Analysis provides a much more rigorous and robust way of thinking about strategic sourcing options and choices than any of the alternative approaches currently available. It also provides the potential groundwork for a science of strategic sourcing.